Homesick: who hasn't felt it?

Once, Autumn meant friction. Snits and pouts. Epic school-shopping wars: my taste vs Mom's.
"Teal is your color, Laurie. It brings out your eyes."
Teal: as in, our front door, sofa pillows, and afghan. Napkins. Glassware. Every single kitchen appliance.
Back then, Autumn also meant trips to The City: milkshakes poured from stainless steel cups; orange fruit jelly slices, mid-afternoon; a new hairstyle for school.
Autumn meant sleek binders and cellophaned No. 2 pencils. Glossy, spiral-bound possibility.
And yes, a teal jumper or sweater plus knee socks came home with us in department store bags. Autumn meant surrender.
Autumn meant having Mom to myself.
Feeling homesick recalls who (and what) we cherish
Does this happen to you? Yielding my "right" to exert my opinion softens me, physiologically. Perhaps there's inner connective tissue that responds to willingness, releasing knuckles, fingers, then fist. Relaxing self-absorbed grasp.
Hands open to receive something unlooked for. Perhaps acceptance. Catharsis. Transformation.
But first, the pang.
Taking a shortcut through Nordstom's—another planet for me these days—my senses flared and clamored:
gleaming makeup counters,
saleswomen in pastel smocks,
racks of bling and dizzying scents
like citrus and jasmine,
talc and hairspray,
miracle lotions,
a hint of Windex . . .
So foreign. So familiar.
I wanted my mom.
Feeling homesick reflects emerging opportunity
Homesickness can strike at any age. Are we ever too mature, or too secure, to feel it?
We may long for childhood's house,
for family members, or climate,
a community—work, school, church—
a lifestyle, or even an era,
holiday tables and traditions,
a country, a culture, a tribe, a friend.
Will naming it somehow tame it? Perhaps pigeonholing the ache is secondary.
Shuffle through paint chips at a home store. Marketers keep renaming colors: endless gradations, nuances, trends.
Last week in Yellowstone National Park I saw my mama's dream palette: wet jewels in unpromising places.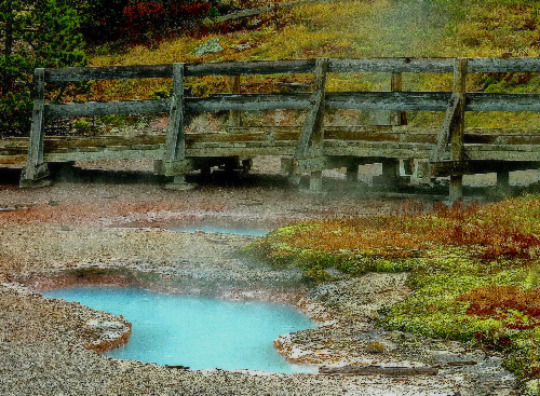 Rocked by longing, I sensed her voice: "It's what you do with your feelings that matters. You can shine anywhere."
Feeling homesick refreshes our best intentions
Over time relational ties may disperse like mist. Or percolate underground.
Memories sometimes resurface so we can reconnect. Or make peace, say a clean goodbye.
"When you see fog move against a backdrop of deep pines," Annie Dillard writes, "it's not the fog itself you see, but streaks of clearness floating across the air in shreds."
"Now we see things imperfectly . . ."
Dementia shrouded Mom's mind in her final years, changed her completely. At her memorial service, I wore teal everything—even her Navajo ring, turquoise stone the size of a robin's egg.
What I wouldn't give now for a shared day in The City. Or anywhere.
"At the death of a loved one, we must also bear the weight of unfinished love, guilt, sadness, relief," writes Frederick Buechner.
All that I know now is partial and incomplete, but then I will know everything completely, just as God now knows me completely.
As the holidays approach, will we welcome homesick feelings? They may signal a healing passage ahead.
Recall 
Reflect 
Refresh
Is homesickness rattling your branches? Stirring your roots?
What do you miss?


You might also like:
Longing: What It Wants, Where It Points
Symptoms of Homesickness and Ways to Cope with It
Homesick Writing exercise:
As a homesick teen immigrant in America, Frank McCourt scribbled in notebooks. Despite his abysmal childhood in Ireland, he kept Irish faces, voices, and places alive by listing the names of streets, describing neighbors, and priests, even recording things his mother and relatives said. Those scribbles kept him company. Gave him perspective.
The more concretely he described his past, the more it helped him cope. About the horrible bed he and two siblings shared, he wrote several paragraphs, including this: "a huge mattress with red hair sticking out, collapsing in the middle, fleas jumping all over us." His composition teacher gave him an A+. McCourt soon filled a duffel bag with those notebooks. Eventually, he wrote Angela's Ashes.
You might describe the where or what or who that you miss—in concrete detail. Write a paragraph or two, or a list. See what unfolds. (No pressure to write a book!) Share your favorite lines in the Comments if you wish.