ACT I:  Send-off

A family like a garden—life-giving, even in loss.
But so tired. Wearied to their roots.
Today the Bradford clan celebrates the life of 42-year-old Emily Grace. Parents, siblings, and kin fill the front row.
From where I sit they look like flowers. Heads bow as blossoms will, after a downpour.
They wear pink, yellow, jade and navy and August green. There are strokes of black like the richest soil.
Staging the public goodbye depletes a family's energies. It strip-mines their emotional marrow, their spiritual DNA.
And what of the mourners?
Earlier today, we opened our closets: should we wear black? Navy or brown? Maybe pastels, or jewel tones, since Emily loved them . . .
We hedge our hopes for robust AC with a shawl. A sweater. What will others wear?
And why fret over clothes, as if mere appearance could upstage the holy?
ACT II:  Slide Show

Baby Emily is butterball-new. She grows up before our eyes, licking beaters, blowing out candles.
That window in her smile? Turns out she's always had that enchanting space between her front teeth.
And often a hat: bonnet to faux fur to crocheted tam with a giant flower. Caps and gowns: graduation, B.A., M.A. in Social Work.
We can't help seeing her body's relentless decline. We know the diagnoses: failure of organs, bones, her thinning skin; infections and complications—one crisis after another.
The hats change. An ice pack. A gray stocking cap, pulled low.
Despite turbulent health, Emily fulfills her practicum in the children's oncology ward, where she tends babies of migrant workers who must kiss their little ones goodbye and return to the fields.
She buys red hats for the babies. Oversees layettes. Parents bring her a box of perfect apples.
Slide after slide, a love story unfolds. It inspires and bruises our sensibilities. Emily as healer. Emily on oxygen. In hospital beds. The ports and catheters, IVs.
Soundtrack lyrics bear witness: "Time is changing me. It's hard to see who I am."
Moonface. Pallor. Sepsis. Disability status. Motorized carts. Too many rides in the ambulance.
Imagine 200 hospitalizations spread over forty years. Her family shoulders this weight alongside her.
Who doesn't hate being a burden? Shame torments her.
Yet she is the one nurses called, again and again, to soothe babies with cancer. In the arms of Emily Grace they could rest, consoled and safe.
When Emily's life ebbs, her mother cradles a daughter's suffering body, wracked with pain, distended by medications.
In the background, Michael W. Smith sings, "You're an angel waiting for wings, Emily."
Haven't we also longed for wings?
To move forward, something is left behind. Life teaches us every ending holds an ace up its sleeve, a new phase on the other side of goodbye.
Within Emily's story the eternal beckons, one glance away: heaven, where it has always been, close at hand.
Near as the next breath.
INTERMISSION
An ongoing student of pain, Emily lived her questions. Sometimes it was messy. Raw. Exasperating. Other times, transcendent.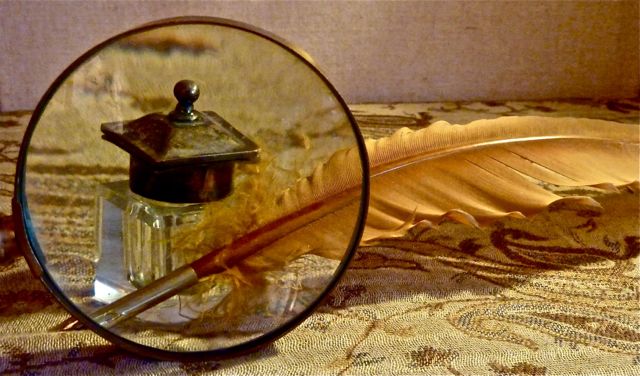 She wrote herself a letter. No matter how she looked or felt—flawed, fragile, shattered—she believed God's love for her abounded, changeless and eternal. Her letter closes this way:
I am not a burden. I am a gift.
ACT III:  Another Side of Goodbye

Emily Grace was a gift and we loved her for it.
But what of our own secretive, sorry selves? Our buried shame? The distortions time and circumstance have wrought in our souls, if not our bodies?
Which of us will dare to nod, even now, in agreement? Yes. I too am a gift.

Emily requested Psalm 34 be read at her service.

Those who look to [God] are radiant; their faces are never covered with shame. I called and the Lord heard me; he saved me out of all my trouble.

MAKING IT PERSONAL:
Are you facing a hard goodbye? Might even this be a gift, in disguise?
Might you be the gift?
ENCORE
Hear "Emily" by Michael W. Smith:
See the slide show: http://tinyurl.com/oe6zeu7