I liked its abashed demeanor.
1 stout brace
9 wood pickets, indifferently trimmed
2 rusty hinges: half-attached

Propped against a tree, that gate radiated unsung genius. Re-establish it anywhere and, via imagination, voila! …
An entrance
A wordless invitation
Another summoning threshold
I enjoy a multi-layered word, like GATE, also meaning:
a mountain pass
that chilling shusssh between slalom course poles
an electrode, rationing current
Wired to my elderly arbor, my portable gate frames the beyond …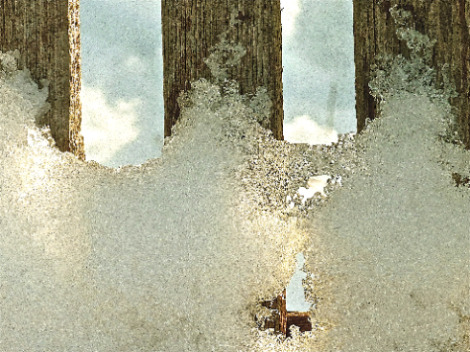 GATE: A Moveable Barrier
A gate facilitates ingress, egress, sometimes a halt.
Sometimes … a broken place.
A gate creates liminal space. Liminal, from the Latin word limen, means "threshold."
Whether intentional or accidental, in-betweennness pulses with risk and potential. Sometimes boredom.
A segue-in-progress separates a dream and its fruition
The perplexing wait divides a prayer and its answer
An aching interval spans the wound and its eventual scar
Waiting often upends our outlook.
What does the barrier signify?
GATE: A Framework that Directs Flow (water, traffic, electricity)
Who doesn't relish finding their flow?—those heightened, effortless moments when our focus thrives; our best selves respond to events, and others; our work progresses, fluid. Seamless.
No regret. No fear. No friction. Time dissolves.
Liminal space can be rich. Fleeting.
Could it be that living "in flow" partly depends on how we navigate each day's smaller gates—the inconvenient, or confounding?
Are we choosing to detach from what fails to instill life? Are we reopening ourselves to replenishment?
Fellow blogger Kel Rohlf writes: "January is a month for me to rest. To let the sap of all my goings and doings recede, to prepare for the next season of creativity and growing and living."
She becomes her own gate.
Trouble is, detachment taxes our sensibilities, frightens or grieves or haunts us.
What if it's not quite time to stop? Or move on?
Here's how author/theologian Richard Rohr defines liminal space: "… between the familiar and the completely unknown … our old world [is] left behind, while we are not yet sure of the new existence."
Enter liminal space often, Rohr advises, "and stay as long as you can by whatever means possible. This is the sacred space where the old world is able to fall apart, and a bigger world is revealed."
Liminal Space, Sacred Space
One name for Mary, mother of Jesus, is "Gate of Heaven"—suggestive of human lives becoming gateways for God.
"As we go forth into the coming year, let it not be in … impetuous, forgetful delight, nor … impulsive thoughtlessness," Oswald Chambers cautions. Only God can transform our "destructive anxiety into constructive thoughtfulness for the future."
Within every liminal space, there's a gift. And? Something's gotta give. Or go. Probably belly-up.
What if each threshold is really God's waiting room?
I'd love to hear your thoughts . . .

Friends, I'm traveling this week and may need to respond belatedly to your comments.
---
"If we don't encounter liminal space in our lives, we start idealizing normalcy." —Richard Rohr.
Fear not. "The Lord will go before you and the God of Israel will be your rear guard" (Isaiah 52:12).
See also: https://www.ted.com/talks/mihaly_csikszentmihalyi_on_flow

You might also like:
Stalled, Halfway Down, Or Do I Mean Up?
Upbeat People, Unsung Transitions
Theshold Times, Crossing Safely